Sunday, July 11, 2010 at 10:00PM
I was thinking about SFMOMA's new addition and debating with myself over the five candidates. I like all of them quite a bit. I'm particularly happy about Snohetta being in the runnings. I love what Diller and Scofidio have been up to lately though. The last two spaces they've worked on in New York are amazing. I've been to both the Highline and Alice Tully quite a bit and I think what makes them so great for me is how wonderfully they engage with sidewalk. In front of Alice Tully is a large stepped gathering space which is always being used. Sometimes I wish that it faced towards the street instead of Alice Tully though. It could be a wonderful place for some type of outdoor concert.
Found this interview with Baunetz of them talking about these, and some other, spaces.
INTERVIEW
30 years of Diller + Scofidio. You started out in 1979 not as a classic architecture studio but at the interface between art and architecture. How do you see the relationship between these two disciplines?
In the art scene we are regarded as architects, among architects we claim to be perceived as artists as well. We are confronted with the division of both disciplines every day, but in our work we don't differentiate between them. When Ricardo and I set up our studio we initially devoted ourselves to performance art, the theater and visual art. But our interest extended far beyond just these fields and there any number of topics that attracted us: communication between people, how cultural conventions emerge, and the influence of private and public space on people. Architecture und art are both part of our world, part of the cultural sphere in which we experiment. We display the results of our research in art installations, and sometimes in architecture installations as well – that doesn't matter, makes no difference to us, the boundaries are frequently blurred. The projects are far more dependent on external circumstances, from the size of the budget, from a too narrow, then again sufficient timeframe the client gives us.
(Vice and Virtue, 1997)
Does it make any difference to you that whereas previously you were involved with art projects you now primarily plan buildings for art?
Just as architecture is part of art and culture we see architects as a partner for cultural institutions. Our approach doesn't involve shaping a building into a sculpture as Frank Gehry, for example, does. He sees the protagonist in architecture, whereas art is subordinate to it. For me this is not an artistic way of designing. Architecture needs to be very precise in its response to a building's content and function. What is this edifice meant to represent? For whom is it being designed? How will it become part of the performance, how is it to become active? Every new project raises the same questions. The only thing that can be exchanged is the material, the components. We use media, employ pixels, build with bricks and glass. The difficulty is finding suitable individual parts for the big picture.
(Institute of Contemporary Art, 2006, Boston)
How did you get involved with architecture?
I never once thought about becoming an architect. I did choose to study it, but saw it as a good education and at the same time as an experiment. I became interested in art very early on, and after high school I wanted to work with cinema. When I went to Cooper Union in the 1980s I was impressed by the then Dean of Architecture John Hejduk and his lectures. For him architecture meant more than just building, he described it as an intellectual and cultural investigation of the world and people. That won me over.
What do you see as the tasks facing current and future architects, after all you are teaching the next generation?
The majority of those practicing see architecture as a service to society. Of course it is more than that. Their most important task is to question and to clarify: traditions, customs, things that are out of date, illogical. Architects should reveal our cultural world, examine it – I call this evolution. Our aim is to give answers. This also involves constructive but critical analysis of society. I see the role of the architect as finding new ways of and bases for working together in our human networks. This is the only way we can bring about changes in the world.
How do you demonstrate this concern in your projects?
We often address conventions and question them: Why are circumstances, things, the way they are, how do they come about, what happens on a more unconscious level and is not even noticed. We encourage people to question the circumstances of our everyday life: Look closely, read between the lines, take a different view. Don't shut yourself off to the fundamentals. One of our research topics is space and it's boundaries in our culture. We research the influence architecture has on our social behavior.
(Highline , NYC)
Even before there was an extreme rise in the need for security in 2001 – not just in New York –Diller & Scofidio were among the first artists to use the new media in their works and in a playful manner make the surveillance of people a theme of their art installations. Where did you get the inspiration for this?
We always aim to be a step ahead of others with our work. We are interested in new technologies, new media and how they impact and influence our life. In our investigations we aim to remain objective while at the same time not foregoing a critical view. From this standpoint topics emerge that take one down different paths. We normally conduct our research work over a number of years, this is what makes our work stand out and distinguishes us from many architects.
Right now you are working on two very different projects in New York: the High Line Park in Chelsea and the Lincoln Center of Performing Arts. A few months ago, part of the Center, namely the Alice Tully Hall, was completed. What method of working do you have to adopt when tackling projects of this magnitude?
It goes without saying that a project as important as the Lincoln Center – the very first and today still the largest art and cultural center worldwide – is particularly appealing to us. The main task involved as regards conversion work was to ensure due urban integration of the entire building complex into its surroundings. The Lincoln Center was intended to become part of the city's public space again. The original 1960s plans envisaged a self-contained art campus, with which in building terms the cultural institution set itself apart from city life. For our plans the whole entrance had to be completely revised. Previously you could only get to the concert hall, the Alice Tully Hall from the road, through a small entrance, and access to the school on the storey above it was totally concealed; a giant pedestrian bridge over the road led to it. With our design we recreated the relationship between the cultural institution and the public in the city. With our plans the entire complex opens out onto the road and is accessible through several entrances.
(Alice Tully Hall, NYC)
With both the Lincoln Center in New York and the ICA in Boston you place great value on the rapport between the building and public space. How important is the relationship between these two areas?
Creating a transition from a city's public space and the private space of a building is always a challenge.
Architects have responsibility to the people that are going to be using their building. Cultural facilities are always social places, where there is communication and life. With our architecture we influence the way passers-by perceive thnigs. By way of example: For the design of the Alice Tully Hall we asked ourselves how we could bring the mood on the inside of the building closer to those passing. We designed the ground floor as a lobby flooded with light and featuring bars and restaurants. In front of the building there is a plaza, where it is pleasant to linger, and which forges the link between the building's interior, clearly visible through the glass, and the public space outside, and which invites passers-by to explore the building.
(Institute of Contemporary Art, 2006, Boston)
What is the greatest skill in major public projects such as these?
I think it's the compromises that are made. There are constant negotiations, in which all those involved air criticism from the point of view of their own discipline and bring in their own subjective standpoint. Whenever I give one of my lectures, with some 50 images, about 40 minutes long, it's a short summary of the history of our studio and presents our projects, I notice that I express myself differently depending on the listeners. If I'm giving the lecture to architecture students at a university, I primarily emphasize the architectural or spatial aspect. Lecturing to developers or clients I use other terminology. During the negotiations for the Lincoln Center I gave my lecture six times with the same text and the same images. Each time, however, it was as if I were communicating in a different language, as I was always addressing a different audience – with representatives of the city, the local authority, with officials from the Listed Buildings Bureau, academic groups, and artists' groups. I'm not being cynical here, but just want to make the point. It's about finding a creative process, about how to liaise between a vast range of groups in this network, how to guarantee collaboration that functions well, in order to ultimately create something great that still reflects the idea behind the design and all those involved.
(Institute of Contemporary Art, 2006, Boston)
And the challenge in designing?
I personally wish there were fewer restrictions, more room for research. The main task in the renovation of the old Alice Tully Hall building was to improve the acoustics in the concert hall. What was interesting here was the emotional effects architecture can trigger. During the project we investigated psychoacoustics. We learned that
if you can see better and feel better, you hear better as well.
Listening to a concert Creating a transition from a city's public space and the private space of a building is always a challenge. activates different senses and together these create the musical experience. As an example, if you use material with plastic in it for the acoustics in a music hall, from a technical point of view it might well be a better choice than a wooden ceiling. However, a hall fitted with wood completely changes the feel of the interior, such that people feel more comfortable and enjoy the entire listening experience in a far more positive way.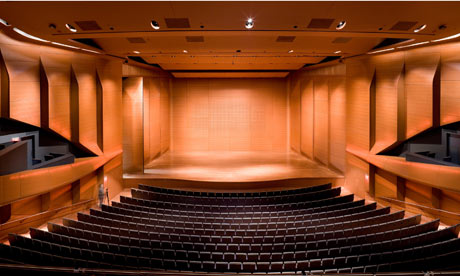 (Alice Tully Hall, NYC)
Text: Norman Kietzmann, Katrin Schamun
tagged

Diller and Scofidio
in

Interview,

Transcript